''Opps'' (165kbJPEG), 32''x48'' Oils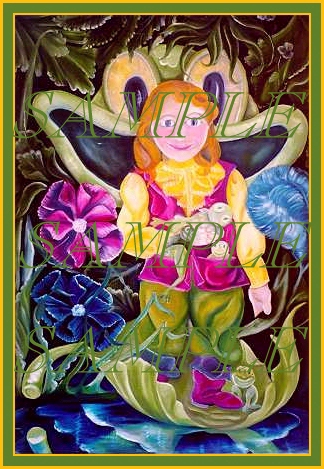 ''Opps'' (165kbJPEG), 32''x48'' Oils
This magical imp has turned all the frogs to pocket size, Opps!!, he missed one.


catalog # 176, min. bid N/A

Rose Cut Diamonds
From earth, roots, stems, and thorns
comes buds, peddles, curls, and colours.
Facets shine reds, yellows, greenhues interstellar
within such pyramids, all luminous once shorn.


The Bundle
THEY LAY BEFORE ME A PRECIOUS BUNDLE
OF WORDS AND RHYME, IT'S REALLY QUITE A JUMBLE
I'M ASKED TO BRING IT TOGETHER TO MAKE A GOOD READ.
IT'S SORT OF LIKE THE STORY OF THE MUSTARD SEED.
FROM VERY SMALL BEGINNINGS, DEEP INSIDE OF MY HEAD.
I PUT THE THOUGHT TO WORDS TO KNOW WHAT THE SPIRIT SAID.
IT SPEAKS OF A JOURNEY WHICH TOOK MANY YEARS,
PLEASE BE PATIENT AS YOU READ MY DEARS.
FOR THE MUSE IS NOT FINISHED FOR IT WRITES THIS VERY LEAF.
OPPS, ITS GONE AWAY, HOW TO FINISH THIS, GOOD GRIEF.!!!!!


membership, home, top of page, contact



Copyright © by The Blue Rose Gallery
all rights reserved